Historical References
This page is devoted to the Springset Gordons of the past.  Who they were and what they accomplished.  Possible photos, and pedigrees of some of the greatest Gordon Setters to pave the way of the strong field dynamo that the Gordon is today.
Many people in Europe have been asking me for information on these wonderful dogs, so I am going to try to satisfy that need.  Please be patient with me as this is a new part of the site that I am attempting to develop.  Also, I am in the process of unpacking two households, caring for 50+ Gordons, numerous litters, and building a new facility!  So, if I can't find those photos or I don't update this as often as I would like, I am sure that you will understand the delay.  I will attempt to go through all of the Springset archives (hopefully litter by litter) and change the featured dogs every few months or so.
HOF Fld.Ch. Springset Little Black Fox, or "Tiger" as everyone knew him, was a small Gordon.  He was almost effeminate when stood next to his sister Morgan or his younger full brother Hall of Fame Fld. Ch. Springset Tomahawk, both of whom had stronger more athletically square type of bodies.  Tiger was a very intelligent dog who would do things for you if you couldn't seem to do it yourself.  For instance, he would take your hand and walk you to the house, indicating that it would be time to go inside.  He would take it upon himself to jump into a car and wait for you to take him for a ride (hint hint!).  When he saw his younger brother, "Tommy" (Tomahawk) "shaking hands" for a treat, he would run up, watch for a moment and then mimic the action (with no training) to also get a treat.  If you missed a bird in the field, he would simply go and get it for you, no matter how long it would take, so you wouldn't feel inept.  Of course he would do this with great fervor, barking with joy as he would chase an escaping bird down.  Not exactly full of style as we would see it, but the dog loved birds and just couldn't see letting one get by him.
Tiger will be remembered by the many who saw him and knew him as that special kind of dog.
HOF Fld.Ch. and Am. Fld. Ch. Springset Lady Bug, CD, or "Morgan" as it would seem everyone knew her as.  Morgan was another brain.  She didn't have the sense of humor her brother Tiger seemed to have.  She was another bird finding machine.  Field trialing got so old hat to her that at times she would simply cut to the chase and go straight to where the birds were.  After all, she was much too old and experienced to play field trial games!  She was such a dry wit and took this bird finding business so seriously, that Norm had a difficult time getting her to screw up so that he could correct her.  He would even place birds on her or right under her nose to tempt her.  She would just give him this look as if to say, "Really!  Are you ever going to get serious about this or are you just going to goof around and waste my time?!"  Morgan was owned by Jack Cooper who is a very nice man and thankfully learned everything that Morgan and Norm had to teach (according to Morgan!).  A special dog who was also a very good producer as well and could have produced even better given half the chance.
Hall Of Fame Springset Licorice Drop was a special dog indeed.  She was originally called Daphne but that became shortened and she became Dee (or as the American Field people remember her as "that Dee dog". One of the few of whom people, many who owned breeds other than Gordons, will remember.  She was owned by Gary Brincefield from Blackhawk Gordon Setters in Indiana and Famous baseball player Willie Mays before she ended her career back at Springset.  She was laughed at when she came to the starting line in competition because of her size and color.  By the end of the stake, people's minds were blown and they began to consider her a formidable opponent.  She beat the pants off of many a pointer in American Field competition, many of them Champions.  She was small and quiet and lethal as a bird dog.  She ranged enormously when the ground allowed it and never passed up objectives if it came to that.  She had good style, big range and fast run.  An excellent nose and a head for business as it were.  She changed the way American Field saw the Gordon Setter.  Years after her death, people would see a Gordon Setter at an American Field event and comment about "that Dee dog, never saw anything like it".  In a time where prejudice got you nowhere, she became a legend without their permission.  She was bred to Lad's MacTavish (Hall Of Fame's Fld. Ch. Danny Boy O' Boy and Springset Storm Huntress' littermate brother to produce Springset Sixty.  Springset Sixty (Sixty in turn is seen in many of the Springset pedigrees today as the dam of Springset Zanzabar Star (sired by Hall Of Fame Fld.Ch. Springset Tomahawk).
Both Tiger, Morgan and Dee came from the famous Springset "L" litter.  Other pups from that litter that were memorable are Springset Light Breeze ("Joy") who was exported to France, and Springset Lark Song ("Jesse") who also had field placements.  Licorice Drop, Lady Bug, and Little Black Fox being the big names of the litter however.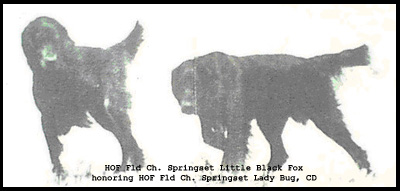 Here is a rough pedigree of the Springset "L" litter: