Cost of the Dog
Rescue Dogs: Rescue and off-colored (non-guaranteed Springset Gordons): $450.00
Female and Male Puppies: Fully guaranteed: $850.00 (unless noted by private treaty)
Adult and Started Dogs: Available upon occasion, call for pricing.

Deposits:  Springset accepts deposits at any time. In fact, if you know that you want a Springset pup for sure, the earlier you get your deposit in the more options you have in litter choice. Sort of like "dibs", the chances of getting a pup from your desired litter is increased by an early deposit. Your deposit will go toward a litter with your requirements or if you have a specific litter in mind, that particular litter.  If your deposit comes in too late for that particular litter, Springset will notify you and make arrangements to set you up with a litter of equal quality to your specific requirements.  Although it seems strange to accept deposits before a litter is bred or whelped, please keep in mind that most of Springset's puppies are sold out before they are born. WE CANNOT HOLD ANY PUPS WITHOUT A DEPOSIT. Deposit's are usually half the purchase price of the puppy, however we are open to accepting other increments. If you would like to set up a payment plan, please let us know and we will be very happy to work with you on setting one up. Please note that a deposit is non-refundable.
Payments:  Springset does accept payment plans. The earlier the deposit, the easier the payment plans can be set up. Pups do not leave before being paid in full. Please contact us and make arrangements.
Additional Shipping Costs
Microchip (for permanent ID):  $15.00-without registration, $25.00 with prepaid registration (depends upon what I have on hand)

Vet check/Health Certificate (airlines will not ship without one): $50.00 non-rabies/55.00 with rabies. AS OF OCTOBER 1, 2016: VET CHARGES ARE INCREASING TO $75.00 PER VISIT/$80.00 WITH RABIES. Sorry, our vet raised their prices.

Shipping crate: $62.00-87.00 (costs vary with size of the crate). If you are picking your puppy up and need a crate, ask for availability please, we usually have some on hand that are smaller and less expensive due to their size and type.

Airport Delivery (this includes all paperwork, bookings, gas, insurance, tolls, and labor): $100.00 from MFR airport and any deliveries 2 hours away from kennel (4-hour round trip).

Portland, OR Airport (PDX) deliveries and deliveries more than 2 hours away from kennel: $200.00 (this includes everything mentioned above and the 10 hour round trip)
  Please note that the Additional Shipping costs to Springset listed above is NOT the actual freight (Airline) costs.  Springset will try to ship your dog/pup collect if you prefer, but it may not always be an option.  We will try to book the pup on a flight as close as possible to you but IF it means doing so will compromise the possible health of the puppy, we will then ship to the largest airport near you. We are assuming that you would rather drive farther than compromise your pup. We use United, Delta Airlines and Alaska/Horizon Airlines.  When paying collect (with Delta), you can usually use check or credit card (please note that Alaska/Horizon is a prepaid airline only); the airlines don't seem to care as long as they get paid. You will also need to bring your ID with you when you pick up your dog/puppy as well as a highly recommended collar and leash!
Please note: We applaud the creative mind when it comes to shipping. Some people use their frequent flyer miles, some may use their family or friend's flyer miles. Some know people heading their way who wouldn't mind taking a pup as carry on or extra baggage. We do allow agents to pick up pups for owners, but the owners must specify who that person will be and we do check ID upon pick up of the agent. People have used driver's and pet couriers as well. People have even split shipping costs if there are two or more pups heading to the same destination, or nearby, at the same time. Those pups would be able to leave earlier since they are traveling together as well. Again, we applaud creativity. Feel free to talk with us about any available options!
Book Orders
The Field Gordon Setter:
The Black and Tan Bombshell
By Suzanne and Norman Sorby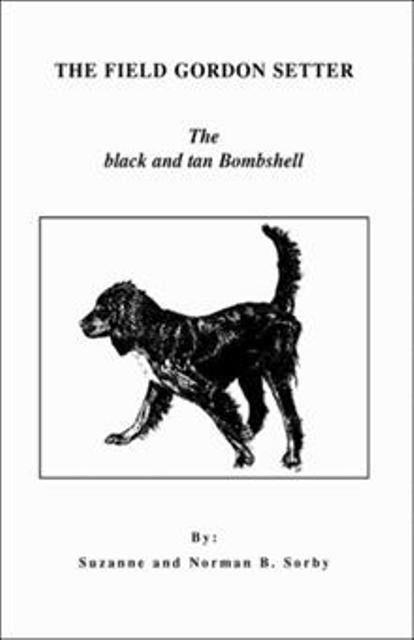 This book is a 5-star rated book and is considered the Gordon Setter Bible by many.  A must read!  For feedback on this book, look it up under Amazon.com for starters or, simply ask any well informed Gordon Setter owner!
When ordering, we suggest that you click on the link listed here or go direct to Xlibris Publishing (Xlibris.com) and order direct through the publisher and get it at wholesale price.
Please note:  if you would like for Sue to autograph your book, please send it to her with proper self-addressed, return postage arrangements.
Click HERE to order The Field Gordon Setter: The Black and Tan Bombshell and read more about it. (If you are having problems with the link, go to www.xlibris.com/bookstore, then in the Search box, put SORBY in the AUTHOR search box.)
The long awaited children's picture book is now available:

Be one of the first to own it!
For more information, please call:
Sue Sorby or Laura Borges
541-830-8304
or email us at:
springsetgordonsetters@yahoo.com
You can get it from Xlibris Publishing by clicking HERE to order Rosie With The Cold Wet Nose. (If you are having problems with the link, go to www.xlibris.com/bookstore, then in the Search box, put SORBY in the AUTHOR search box.)